I was writing the song "Stand Tall Stand Proud" on Tuesday after the Boston Marathon event and I saw everybody start posting an image created by Dan Blakeslee on Facebook. This piece of art is moving to say the least.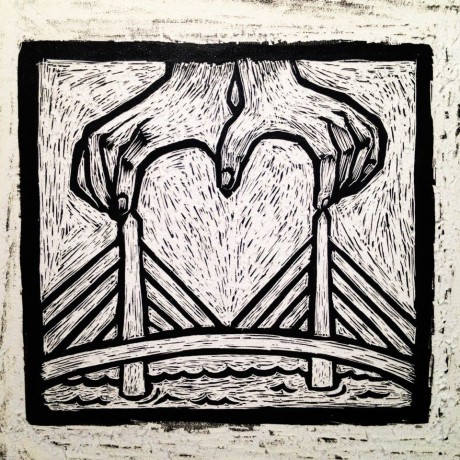 If you are familiar with Boston you know this is the Leonard P. Zakim Bunker Hill Memorial Bridge. It is really quite an amazing piece of art all by itself.
I have known Dan since sometime around 93-94 when we were both hanging out in Ogunquit, Maine as young lads. I believe he worked at Barnacle Billy's in Perkins Cove at the time. Everybody in Ogunquit new who Dan Blakeslee was. I remember Dan sitting on the corner in front of an Ice Cream Shop that had closed for the evening playing his guitar and drawing a huge crowd. He was a great entertainer and a positive force in this world and continues to be. I've always been impressed with his dedication to his craft and the pure talent that exudes from every pore of his skin. A great songwriter, performer, artist and humanitarian. If you don't own any of his music or never have heard him, listen below. If you want to view more of his art you need to go to: danblakeslee.com
Wednesday afternoon a fundraiser emerged on facebook using this masterful creation as it's logo on indiegogo.com called Hearts For Boston to show "A symbol of solidarity for the victims and a concrete measure of financial support for the Richard family." I decided to read through the fundraiser description and found that each person who donated would also receive a free download of a "Hearts For Boston" album featuring New England artists. So I figured since I'm broke and about to have a baby maybe I can contribute a different way. Since this event moved me to write a song and I am also a New England artist maybe someone else might feel better by hearing it. So I contacted Steve Legare, Dan's friend, who with Dan Blakeslee's consent started this campaign. I sent him a sample of the song and he responded saying, "Hey Paul, Thank you so much for reaching out! I will definitely use this song, beautiful and moving!" I was wonderfully touched that he liked it and that he was interested in using it for a great cause.
So if you follow the link below you can donate to the cause and depending on how much you contribute you will get something different. A T-shirt, a patch or a pin all with original artwork created by Dan Blakeslee as shown above. "In the mail with their order, all donors will receive a download code for an exclusive 'Hearts for Boston' album featuring songs by artists from all over New England" as described on their webpage. Also included on this album will be the song I wrote the day after the Boston Marathon tragedy, "Stand Tall Stand Proud."
So here is the fundraiser Hearts For Boston. Even the smallest donation counts. Thank you.