Since the CD Release show I have been working to get more shows at local venues, get rotation on the radio, get my CD reviewed and get on TV. One thing I've learned is that persistence and patience pay off. I am a DIY(DoItYourself) artist. I have no team other than my wife who helps with graphics and other visual needs. After mailing out tons of CD's, emailing, and making phone calls I have accomplished quite a few things in the last couple of months. It's tough trying to make a career out of your passion especially when it is art. It's just the beginning and if I keep plugging away day by day keeping it slow and steady I will make something of myself doing what I love. I won't give up and I haven't after all this time.
Here is a picture of my new/used Alverez AJ60 SC that I bought from Alex in Rochester,NH. today!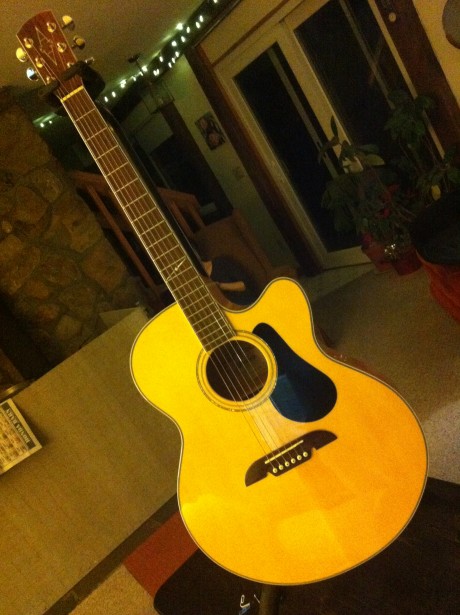 I was recently on Local Motives a radio show hosted by Josh Lovejoy on 90.9FM and 104.1FM out of Portland Maine. Here is a link to the performance on Local Motives: www.localmotives.org/2013/04/paul-chase-jr/ Also check around while you are at the site. There are a ton of local Maine performers in the archives. My favorite shows so far are Monique Barret, Max Garcia and Hutch Heelan
When my wife Bridgett and I were driving up to Portland from Wells I was a little nervous being that I hadn't done anything like this since last year when I was on Private Stage on WPXT a TV show that features Maine artists. Another great addition to the Maine Music scene. I met Josh at the WMPG Studios on the USM campus at 6:30pm on Friday March 29th. I didn't even have to knock on the door and he had it open and greeted us with smiles. Josh informed me that the sound man they normally have for live shows wasn't available that evening and that we were going to try a new format. Normally they have the artists in a room separate from the control room through a glass window. He informed me I would be right in the control room with him instead. My theory after many years of experience is to go with the flow and not to fight change but embrace it and it seems Josh was right in there too. He handled everything as if it were a normal Local Motives show and all went smoothly.
Before the show we had some time to kill and Josh gave us a tour of the Studio. Wow you wouldn't believe the collection of vinyl and rows of CD's although Josh made a good point here too. What happened to the tapes? They also have a huge collection of local artists going way back. Here are a few picks from the tour.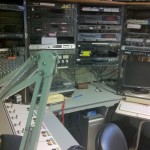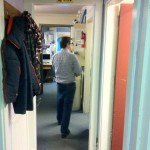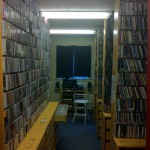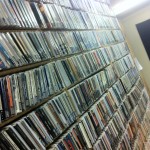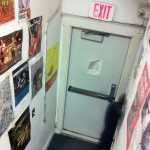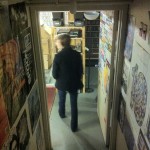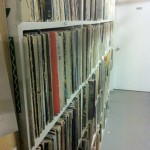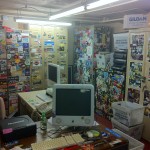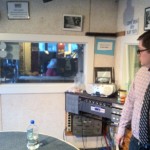 After the tour we set up our gear and Bridgett set up the Iphone to videotape the performance. These pics are all on an Iphone too. Josh is giving me the audio from the broadcast and I will sync it up with the video Bridgett took and release it pretty soon on youtube. It's kind of neat being right there in the studio! Very soon we were starting the show! I kicked it of with "Rest." We talked and laughed and told some stories. It was a fabulous time had by all. I told the story of how I didn't have any coconuts to make hoof beats like in The Holy Grail. So I found that cupping my hands and beating them against my bare stomach worked pretty well. Then I realized my windows were open and it was dark out and quite bright inside. People walking down the street and my neighbors may have been watching me beat on my stomach and dance around with headphones on. Oh well. Great story. I got the sounds I was looking for. Ha! Josh was a great host and I had a great time on the show.
I was recently told my album has been put into rotation on WBOR 91.1 FM at Bowdoin College in Brunswick,ME! and they will be pumping up my next gig at The Frontier in a Songwriteres in the Round on May 1st! That is pretty cool I think. Thank you Clove.
Can you spot What Is Real on The New Shelf at WBOR?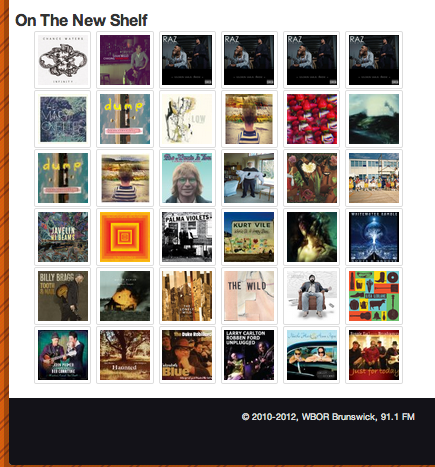 Next Month I will be releasing a Live album with almost 30 songs called This Is Real – "Live at The Post Road Tavern" with recordings I made at the CD Release Show. I will also be loading the video up on Youtube.
The month of May will prove to be quite eventful. On the 14th I will be in store at Tully's Beer and Wine for a beer tasting/performance. This will be great for all the beer lovers out there that want to try some well crafted local brews. On May 24th I will be with my band Syndicate19 at The Big Easy in Portland Maine for our CD release show with The Grumps.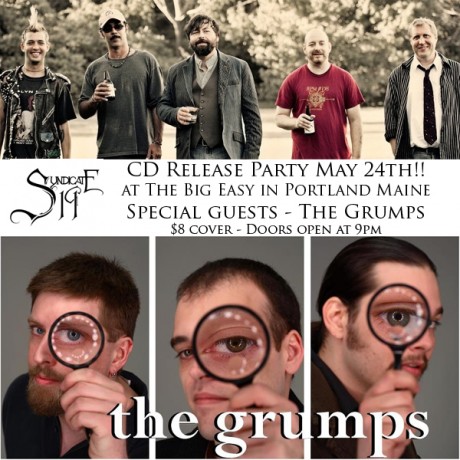 Things are picking up and all the hard work and determination is paying off. I hope to be twice as busy next year playing shows and writing music. My daughter Loretta Elsie Chase will be born in August and I know that will change things. I only hope I can show her that it's possible to support yourself and your family by doing something you love that gives back to the human race. Hope to see you at a show or two this summer and if you have any leads for good orignal acoustic venues I should play or know anyone you can hook me up with to further my efforts please don't hesitate to reach out to me at info@paulchasejr.com and don't forget to sign up on my mailing list if you don't want to miss anything important.
Humbly thankful for your attention,
Paul