Hi y'all!! Hope this summer is a good one for you. It's about time I sat down and wrote another blog post. It's great therapy and it helps me reflect on what I've done recently and gear up for what I will be doing. It also gives you something to do while you are driving. Got to stop doing that guys! I will also be releasing a NEW LIVE ALBUM on July 23rd!!!! Read on for more about that. Anyways, Here is what's going down this month.
On July 18th I will be solo at The Hive Art Gallery with Abbe Anderson, and Scott Girouard
8:00 PM  $8.00 at the door
www.reverbnation.com/scottgirouard
http://www.thehivekennebunk.com/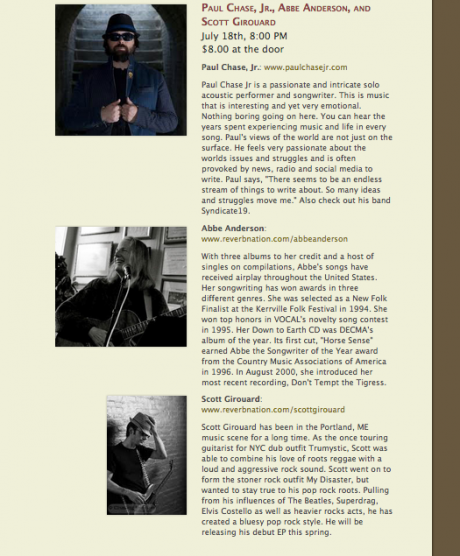 On July 19th I will be playing a very special show with my friend and fellow songwriter Dan Blakeslee. I will be opening for Dan at The Post Road Tavern in Ogunquit, Maine.
-Show starts at 10pm $5 cover at the door.
Here is a little hype for ya.
-"There is a feeling of antiquity to the songs, which are written in a poetic language that could have been taken from Walt Whitman's "Leaves of Grass" " – Boston Globe / Nick Zaino III
-"Dan Blakeslee is one of Boston's most promising songwriters – spinning literate songs that feature the perfect mix of folky grit and soulful swoon" – Visible Voice / Scott Pingeton
Poster by Dan Blakeslee!!!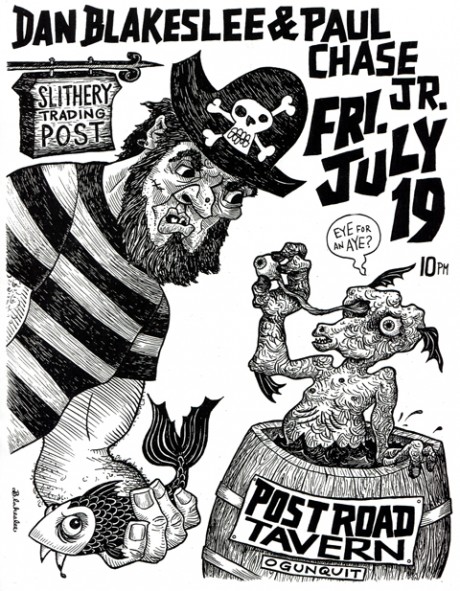 On July 27th I will be performing with Syndicate19 at Fury's Publick House in Dover,NH. with Special guests Mavara and the infamous Honky Gabacho!! show starts at 10pm / $5 at the door. Buy Syndicate19's new album here: Itunes
http://honkygabacho.bandcamp.com/
http://www.furyspublickhouse.com/
 On July 30th I will be opening up for Jumanji the movie!! Yes this isn't a mistake. I will do a half hour set outdoors at Lafayette Park in Kennebunk, Maine before a showing of Jumanji. This a family event so bring em!! Thanks to Sheryl and Video Creations of Kennebunk for making this happen. http://www.videocreations.tv/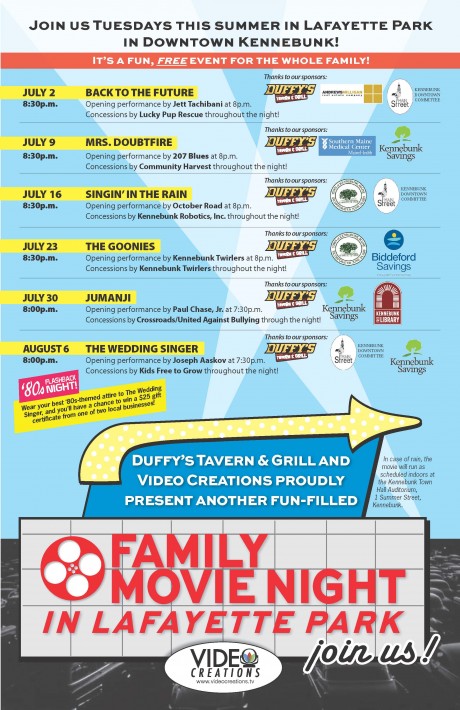 I would also like to let you know about a local author that could use your support. Barry Jandebeur has recently published a novel available in paperback. Here is a description of the book taken from his webpage.
-"THE MIDDLE OF NOWHERE", written in a voice so compelling that you feel you are there, follows two men, brought together by coincidence, as they confront intellectual, emotional and physical challenges, and find themselves woven into the fabric and spirit of human compassion.
So if you are going to take a chance with a new book give this one a go. I will be reading mine this week as I'm off to Rangeley, Maine for vacation where I will have the time to stop and smell the roses. http://barrysjandebeur.com/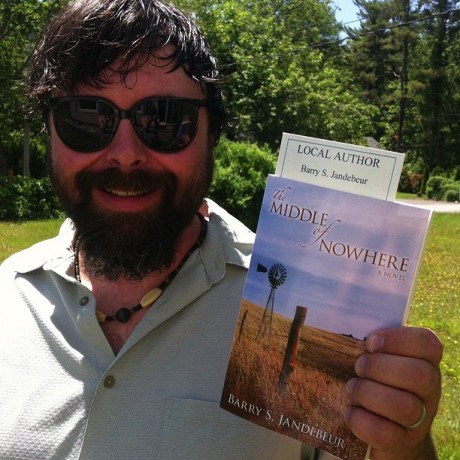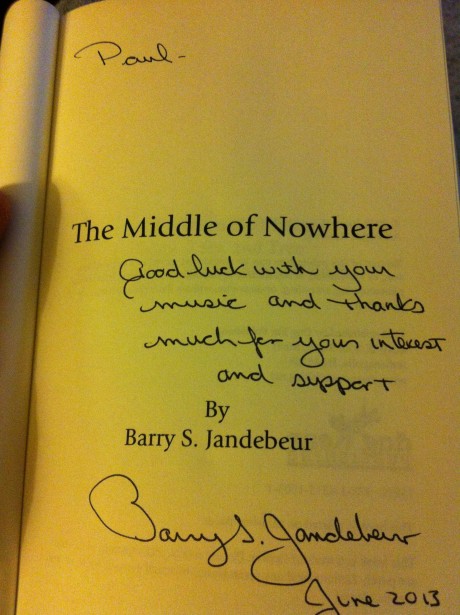 There has been a lot going on over here at Humble Sky Studios along with my wife and I expecting our baby to arrive around August 10th! I can't wait to meet her. We decided to name her Loretta Elsie Chase in honor of my Grandmother and my wife's Great Grandmother.
My band Syndicate19 released it's first official album with a show at The Big Easy in Portland on March 24th and it is now available on Itunes, Amazon, Google and Spotify. Just give a search in whatever music service you use it is probably there or go here www.syndicate19.com. The show was a great success and since it's release, songs from Syndicate19's "Call You Out" has been played on quite a few local radio stations in Maine.
 I have decided to hold off on my release of "This Is Real Live at Post Road Tavern" till July 23rd. So get ready it's coming. The first half is my latest album "What Is Real" played live in order start to finish and in the second half are songs not yet released in the studio. This album totals almost 30 songs for your listening pleasure. This digital download will also feature artwork from local artist Michael Dolan. Look for it July 23rd!!!
Hope life is treating you right and I hope to see you at a show soon. Thank you so much for your support and interest.
Humbly Thankful.
Love,
Paul